me wants a new hairstyle, do you?
Seriously am gonna head to the salon soon for my hair cut!
it's been ages since i last touched my hair.
it's been neglected and now it's think and long(which i like)
but not the others. they kept reminding me to cut my hair without fail.
saying that's it's thick and all. it's my hair after all, right?
but they are getting on my nerve. I'm left with no choice.
I'm tired of hearing the same old thing over and over again.
like which human with the right mind wouldn't feel so eh.
so I'm planning to get my hair either trim or get a new hairstyle!
so excited yet nervous. the outcome is unpredictable, you know!
especially if I'm cutting at the heartland salon.
yes, they are great but not yet a pro! ha.
i have been having my haircut at the same salon every single time.
so i did get both bad and good outcome. as i said,unpredictable.
so this time, I'm thinking hard on whether should i stick to it?
or should i head to some other salons, maybe at town.
heard that the barber over at town are more experienced/better.
i really want to have a nice hairstyle.
and obviously not a ruined hairstyle aftermaths!
Just imagine me coming out of the salon(at Town) with a fugly hairstyle.
i would probably be covering and hiding myself from others!
i presume you guys would do the same lor.
i haven't decided on what hairstyle should i get or suits me.
but i reckon I'm keeping this BOOMZ hairstyle, but shorter for now.
let me ponder on it for a bit. will prolly be cutting next weeek!
yay or nay, hur?
I'm looking at the mirror now, what's with my hair! muahaha.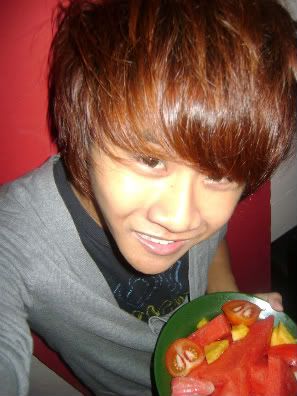 Ps://this photo was actually for the "colour my diet blogathon".
but decided to give it up halfway since i'm behind time. ha!